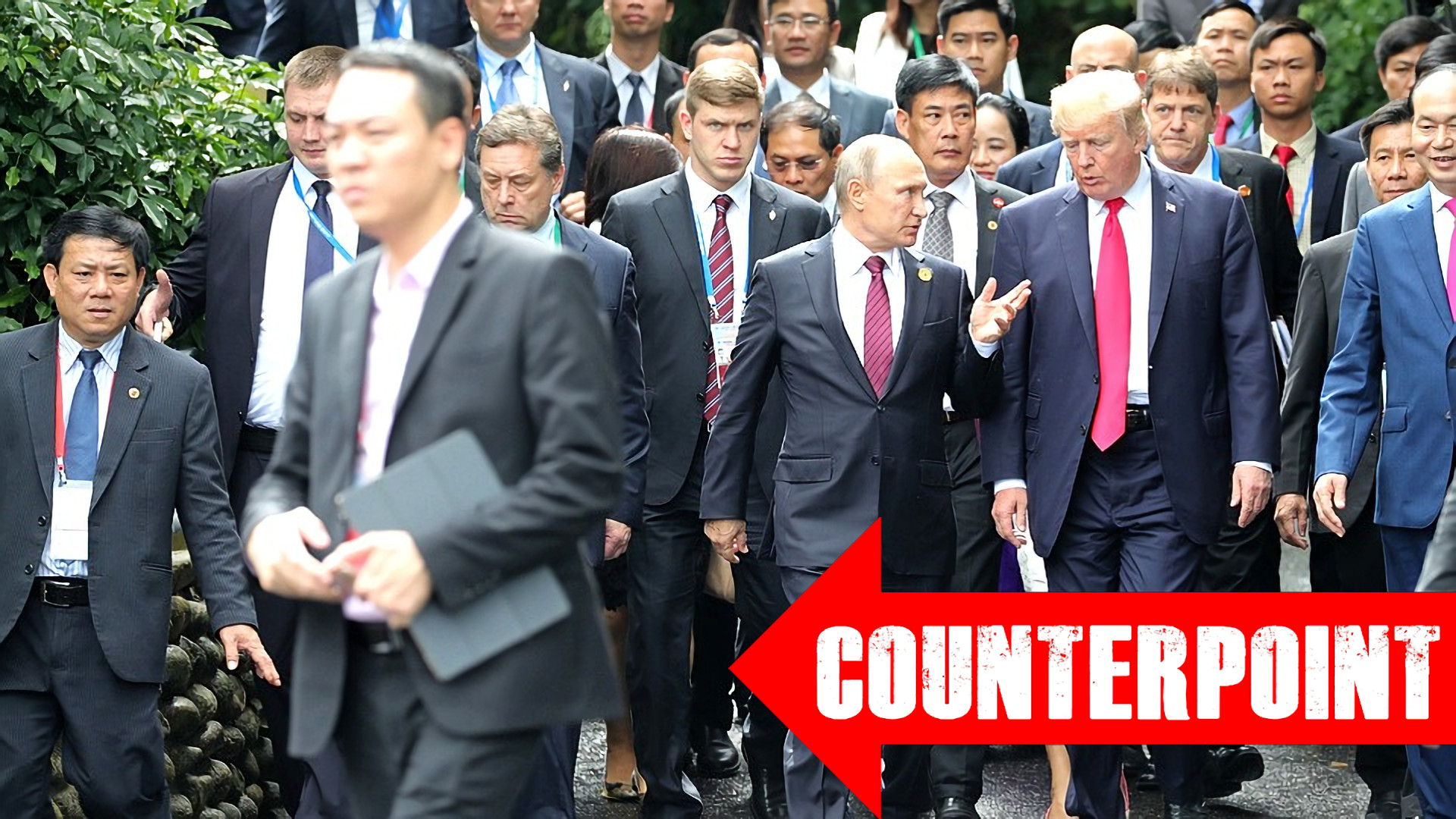 [Point]Counterpoint: Trump's Global Strategy
Counterpoint: Trump's Global Strategy – A Different View
by J. David Patterson
NOTE: The views expressed here are those of the authors and do not necessarily represent or reflect the views of SMA, Inc.
In our new series of point-counterpoint essays sponsored by SMA, we recently published Dr. Greg Treverton's second in the series, "Trump's Global Strategy," which reviews what Greg believes to be President Trump's "global strategy" (or lack thereof).
I believe it's fair to characterize Greg's article in terms of three points: 1) President Trump engages global problems and world leaders on a purely transactional basis, ignoring America's long-term interests on the basis of a thin, or "surface logic" as Greg puts it, that passes for strategy; 2) this surface logic can be seen in President Trump's economic policies; and 3) President Trump's falsely dim view of "allies" exemplified in his recent engagement with NATO leaders.
My point of view is different, as you might suspect. First, I see a difference between a "Global Strategy" and a "world view." President Trump has a world view that does not comport with what U.S. presidents in the past have adopted. Past presidents have leaned toward globalism as a philosophy regarding international relationships.
The globalist sees the U.S. for all its wealth and power as simply one of 196 nations undeserving of any deference on the world stage. This was precisely former President Obama's belief. As a globalist, former President Obama, for example, believed that the U.S. was just another participant, not a leader, in alliances such as NATO and in international organizations such as the U.N. He didn't believe we deserved the role of leader in either of those fora, and never sought such a role.
President Trump, on the other hand, is a firm believer in American exceptionalism, making him what I call an "exceptionalist." He believes not only that the United States' wealth and military power are extraordinary—which they are—but also that our nation's character, demonstrated by our historical willingness to invest our treasure and the lives of our men to restore peace in the world makes America exceptional. That mantel of exceptionalism does demand deference and respect as well as the acknowledgement the U.S. has a responsibility to its citizens first.
Acknowledging President Trump's "exceptionalist" world view puts in better perspective his view of allies' tariffs that have made trade with them unfair to American farmers and manufacturers. Trump rebels against that imbalance in burdens and responsibilities. In his correct view our allies' unfair and often unreasonable expectations that the U.S. will provide for their safety with a disproportionate burden on the American taxpayer has been tolerated for far too long. Greg's argument against his response to this unfairness in trade is nothing more than a defense of the status quo.
Neither of Trump's positions cited above is inimical to U.S. domestic or foreign interests. What makes them different positions for a U.S. president to take, is that President Trump sees fair tariffs and proportional expenditures in national security spending for the U.S. and its allies through the lens of "America First," and not as a globalist. Clearly, this point of view rankles President Trump's detractors; but that fails to establish that he is entirely wrong.
Let's take tariffs first. There are cases to be made on both sides of the benefit of tariffs debate. Tariffs are not new. The subject of whether the U.S. should impose tariffs or defend against export barriers is older than the nation. "'Taxation without representation'—including tariffs without representation—was one of the principal drivers of the American Revolution." In the years leading up to the Civil War, the North's rapid industrialization and expanding trade with other countries the fledgling nation turned to tariffs for relief from other nations' challenges to its exports.
Historically tariffs, excise taxes and other barriers to imports, have been imposed for two reasons: protection for production and exports of domestic products and in retribution to counter the trade barrier policies of international trading policies. The notion that President Trump's recent imposition of tariffs has broken with the Republican Party's staunch free trade position is factually and politically untrue.
Bruce Bartlett's commentary, The Truth about Trade in History, explains that in the election of 1888, the Republicans called for tariffs to protect American manufacturing and that the defeat of Democrat Grover Cleveland, a free trader, by Benjamin Harrison resulted in the adoption of the McKinley tariff of 1890. Worse yet for taxpayers, the economic policy for the next 20 years led by consistently pro-tariff Republicans resulting in the 1909 Payne-Aldrich tariff with the quid pro quo that Republicans supported the 16th Amendment to the Constitution as a compromise creating the federal income tax.
As Bartlett put it, "That has to have been one of the worst deals in history—a lose-lose situation if ever there was one."
None of President Trump's post-World War 2 predecessors with any resolve chose to even attempt to deal with the unfairness of the trade policies of our allies. For a time, through the Marshall Plan, we sent billions in food, industrial equipment and building materials to help Europe recover from a war that devastated the continent. Our allies—even former enemies such as Germany—became accustomed to our largesse. After their economies recovered, they repaid our generosity by erecting trade barriers—tariffs and non-tariff barriers to our exports.
President Trump came into office facing the situation where over years, the U.S. had maintained relatively low tariffs and barriers to imports, while other nations had imposed high tariffs and barriers to U.S. exports. World Bank data shown in a chart published in the Washington Post (no friend of the President) shows that in nearly every category the United States' tariffs are considerably lower than those imposed by the European Union and China.
Clearly that is not true in the case of every type of goods and services, but it is true in general. But the examples cited by the president to prove the general unfairness of European and other trading partners' tariffs—such as dairy products where U.S. tariffs are in the range of 16 percent and the EU is nearly twice that and non-electrical machinery where the U.S. tariff is about 1.5 percent and China's tariff is over five times that—proves the president's point.
Nevertheless, President Trump has said repeatedly that he is for a more open and free trade environment with trading partners. In his opinion piece, in Financial Review, Trump wants free trade, but not on a unilateral basis, Mark Tinker wrote, "Importantly though, it looks to me at least as though rather than push up tariffs everywhere in a trade war, as is widely assumed, what [Trump] is actually looking for is for tariffs as he put it 'to come way down'. In other words, he wants free trade, but not on a unilateral basis."
For those who posit that President Trump's tariff policies are short sighted, Tinker goes on to explain that threats of higher tariffs on steel and aluminum are more likely aimed at Canada and Mexico as leverage in renegotiation talks on NAFTA than targeting China and South Korea. But, regardless of the target, China is resuming talks even in spite of recent tariffs.
One comment that Greg makes that would benefit from a further proof is his view that President Trump's economic policies may be hurting the middle class. Greg says on that subject, "witness those tax cuts for the rich that only briefly and modestly helped the struggling middle class." Yet, for the consumer, the ones who benefited from the tax cuts, that doesn't seem to be how they see it.
As the Wall Street Journal explains using Walmart's strongest sales in a decade as a surrogate for a strong economy, "So much for the retail apocalypse. Buoyed by rising wages and employment as well as tax cuts, Americans are spending more on everything from jeans and handbags to wall paint. That has translated to rising sales at chains ranging from Walmart Inc. to Home Depot Inc. to Coach owner Tapestry Inc., which each reported stronger results this week." This economic news wouldn't seem to be the work of a "stunningly weak economic team" as Greg calls the President Trump's team of economic advisors.
Greg has a point when it comes to other NATO nations paying more of their share of defending the members. The NATO nations are espousing better positions than before President Trump took office but many nations, including Germany, have made little or no progress toward meeting the goal of defense spending equal to 2% of GDP. And, I would submit, the recent enthusiasm by our NATO allies to bolster defenses may have much more to do with adventurism by Russia than the urging of the President.
However, President Trump made his point and moved on to what might have been the real message he wanted to communicate. Why is Germany negotiating with Russia over a pipeline to move natural gas and paying a large amount of euros in the process, when Germany isn't one of the four countries achieving the goal of 2 percent of Gross Domestic Product?
It's probable that Germany could buy natural gas from other sources such as North Sea sources or from the U.S. less expensively than paying to build a pipeline and buying from Russia. And there is the danger that Russia may prove an unreliable source should world events drive Russia to turn off the spigot which, of course, would give Russia great leverage over Germany and other EU nations. Mr. Trump's is a legitimate discussion to have with Germany with the largest GDPs in Europe.
As Greg points out and Secretary of State Pompeo suggests, maybe President Trump does see the foreign policy as "series of deals, mostly short-term," but so far, the evidence supports that what the President is doing, while disruptive to the sensibilities of his opponents, seems to be working. No sooner than President Trump's detractors became apoplectic over China's retaliation for U.S. tariffs steel and aluminum by increasing its own tariffs on soy beans, President Trump announced that the EU will be an expanded market for U.S. soy beans. As the national media outlets were in a high state of hysteria, shouting that the sky was falling, because President Trump took a hard line with North Korea, Secretary Pompeo comes back from a visit to North Korea with the news that there will be the first summit meeting between and American President and the leader of North Korea.
To sum up, the Trump Administration, certainly does not fit the traditional box in which detractors would like to put it. Yet, the "Art of the Deal" seems to be generating mostly positive results. Not perfect results, if that's the standard people want to use. And not results that don't cause discomfort among our allies, which is another false standard. Trump's are the results that one should expect from a democracy.
There were so many wrong-headed policies that Mr. Obama pursued—in war, economics and diplomacy, people voted for Mr. Trump to fix what they believed was broken. So far, he's doing a pretty decent job.