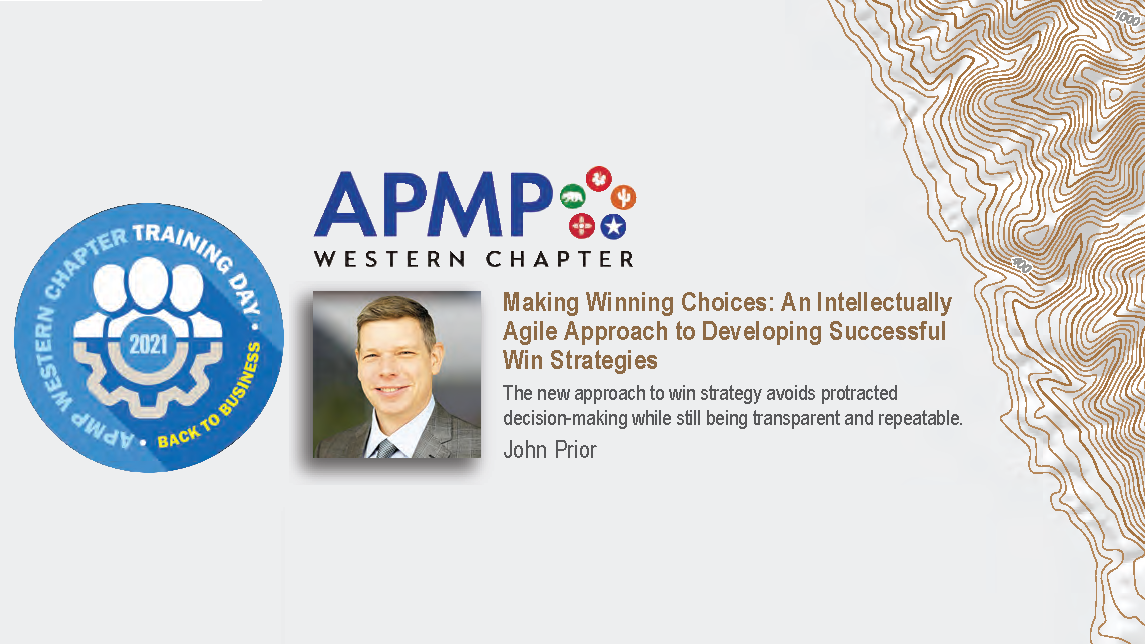 Learn How to Make Winning Choices at the APMP Western Chapter's Training Day
Our Vice President of Management Consulting, John Prior will be presenting "Making Winning Choices™: An Intellectually Agile Approach to Developing Successful Win Strategies" at the upcoming APMP Western Chapter Training Day on Friday, October 29, 2021 at Disney's Grand Californian Hotel and Spa in Anaheim, California.
The new approach to win strategy avoids protracted decision-making while still being transparent and repeatable. Making Winning Choices™ is team-based and depends on identifying evidence that establishes a clear, explainable burden of proof for key questions. Just as important, it is adaptable to unique, albeit often changing, Request for Proposal (RFP), and proposal requirements and circumstances. Furthermore, it forces real decisions and trade-offs on the four central issues driving winning proposals:
The technical offering
The enterprise offering
The program approach, and
The pricing and contract terms
You can listen to John and five other excellent professional development presentations by registering  for the APMP Western Chapter Training Day here. SMA is proud to be the event Platinum Sponsor. You can also learn more about our Making Winning Choices™ approach here.