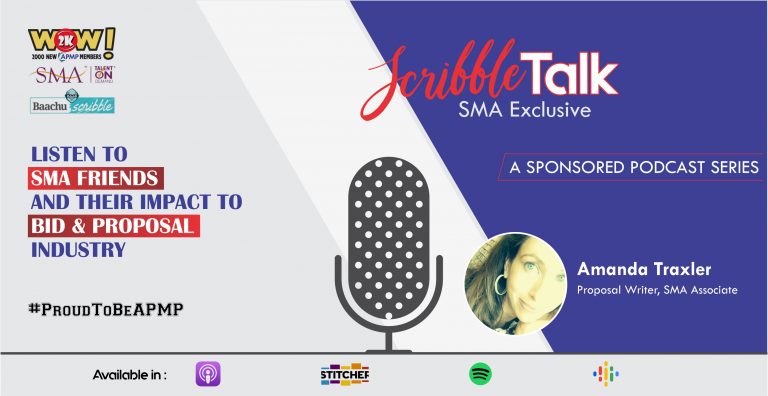 Scribble Talk SMA Exclusive Episode 6, Featuring Amanda Traxler
"SMA is pleased to sponsor Scribble Talk SMA Exclusive. As one of the top Apple podcasts, it delivers valuable knowledge to bid and proposal professionals worldwide. It's a great source for mentoring and career development, and each episode is so much fun!"
Ajay Patel, President and CEO, SMA Inc.
Scribble Talk SMA Exclusive is our sponsored podcast produced by Baachu Scribble and hosted by Baskar Sundaram. In this episode, Baskar interviews Amanda Traxler, CF APMP, a Principal Proposal Writer in our Capture Support and Proposal Development Practice.
Amanda was born in LA and raised in Kansas, lived in NYC, Chicago, and LA, and is now back in Chicago area. She loves cities but likes to be on the periphery: "In Elk Grove Village, we have elks!" She has an an MFA with poetry from the Art Institute of Chicago. Her career path started with a Journalism degree, through newspaper copy editor, marketing, being a content creator for a proposal database, then commercial proposal writing, and finally as a government proposal writer. The healthcare and software domains have become her mainstays: "I'm fascinated by IO and cloud-native!" Amanda's first gig with SMA was in aerospace at Virgin Orbit: "A rocket factory; it was amazing!"
In this episode we discuss Amanda's
Life and early education
Newspaper copy editing career
SMA tenure and her wide role
Healthcare solutions proposal management/writing experience 
People influential in his life and career
Advice to bid and proposal professionals
Few fun Qs….
Get to know Amanda Traxler! Listen to the podcast here:
If you're building a team and you have positions you can't fill, you need to use SMA Talent on Demand (TOD®)! With TOD®, you can find experienced talent, such as Amanda, matched to your exact needs.