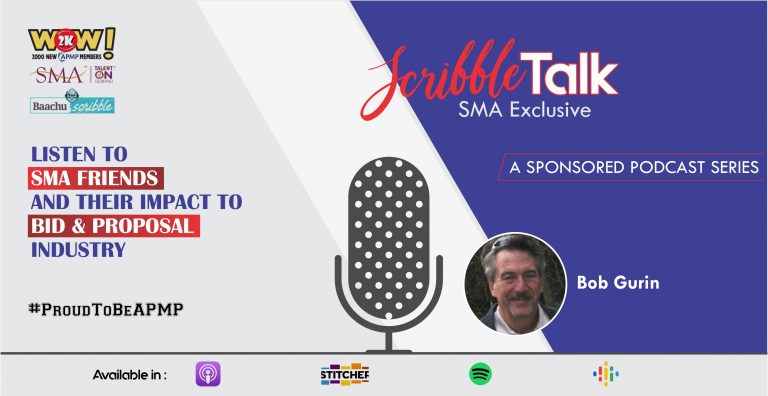 Scribble Talk SMA Exclusive Episode 9, Featuring Bob Gurin
"SMA is pleased to sponsor Scribble Talk SMA Exclusive. As one of the top Apple podcasts, it delivers valuable knowledge to bid and proposal professionals worldwide. It's a great source for mentoring and career development, and each episode is so much fun!"
Ajay Patel, President and CEO, SMA Inc.
Bob is currently our longest-serving employee and has trained hundreds of SMA Associates how to develop winning proposals using the SMA proposal process. Many SMAers are proud to consider Bob as their mentor and friend.
Bob has had many roles at SMA over his 30 years, including leading our Competition Management Practice, Site Manager for operations with one of our top clients, and Vice President of Quality Assurance and Training. Prior to joining SMA in 1989, Bob was Director of Product Development at Ultrasystems, and prior to that had worked at the NSA.
Bob's Career Summary
Almost 32 years a SMA, serving as proposal manager and Senior Vice President
Spent 8 years at NSA as programmer and project manager
Worked as systems engineer and program manager for small systems engineering company
Joined SMA (then SM&A) after working with Steve Myers on a proposal as the client
Served two tours at SMA Headquarters, including running Competition Management group
Primary proposal management trainer
Born in DC
Bachelor's Degree in History and Computer Science from University of Maryland, MBA from Pepperdine
In this episode we will discuss Bob's
Early life and education
Role as mentor and friend
Over 30 years at SMA
SMA associate and projects
People influential in his life and career
Advice to bid and proposal professionals
Few fun Qs….
Get to know Bob Gurin! Listen to the podcast here:
If you're building a team and you have positions you can't fill, you need to use SMA Talent on Demand (TOD®)! With TOD®, you can find experienced talent, such as Bob, matched to your exact needs: