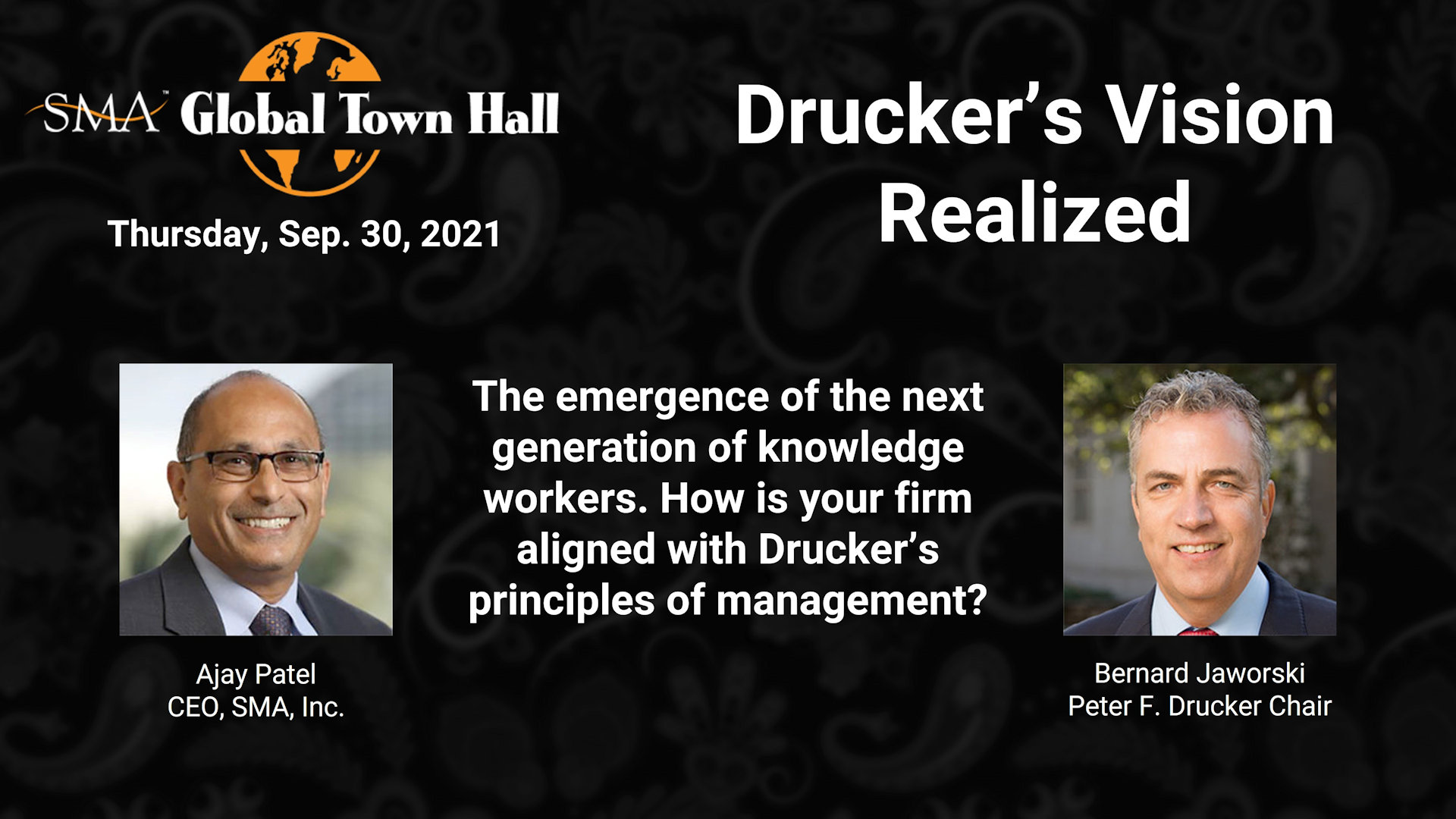 Peter F. Drucker's Vision Realized
If you missed our 3rd Global Town Hall on Thursday, 30 September 2021, which was live from the HR Technology Conference in Las Vegas, Nevada, we featured a discussion on the next generation of knowledge workers and what that means to your company.
Peter F. Drucker first coined the term Knowledge Worker in 1959 in his book "The Landmarks of Tomorrow." We explored recent trends and their implications for managing a professional services business using the management principles of Peter F. Drucker:
Have a strong mission and a cogent answer to the deceptively difficult question, "What business are we in?"
Always remember that "there is only one valid definition of business purpose: to create a customer" while accepting that "quality in a product or service is not what the supplier puts in. It is what the customer gets out and is willing to pay for."
Push responsibility and accountability as far down into the organization as possible and follow this basic communications strategy: Listen down, talk up.
Embrace the fact that every organization develops people–"it either helps them grow or it stunts them"–and so does everything it can to help them grow.
See innovation–that is, "change that creates a new dimension of performance"–as the responsibility of everyone in the enterprise, not just the R&D staff.
Regularly abandon things–products, policies, practices–that are no longer effective or are consuming an inordinate amount of resources when weighed against tomorrow's opportunities.
Measure results, not activities, for shareholders and all other stakeholders.
Keep an eye on the long term–and not just the short term–being mindful that "while securities analysts believe that companies make money, companies make shoes."
Live by a core set of values, animated by the belief that an organization needs values "as a human body needs vitamins and minerals."
Demonstrate social responsibility not simply by having a Corporate Social Responsibility (CSR) department or donating to charity but by understanding that an organization is responsible for "whomever and whatever" it touches.
Our distinguished panel comprised:
Dr. Bernie Jaworski, from the Claremont Colleges Drucker School of Management
Ajay Patel, CF APMP, President and CEO of SMA, Inc.
You can watch the recording here:
We performed a survey among our headquarters staff and associates to see their perception of how well we have implemented Drucker's Ten Principles here at SMA. You can see the results here:
The Ten Principles of Peter F. Drucker, SMA Survey Results, October 2021 (2199 downloads)
Our 30 September Global Town Hall also featured our very popular engaging series "Art Talks with Sarah Kane" sharing the inspiring work of Wassily Kandinsky, a Russian painter and art theorist generally credited as the pioneer of abstract art. If you would like to watch this or any of the other 70 videos in our Art Talks series, please create a free, no-obligation account on our Talent on Demand (TOD)® platform as a client (you're looking for talent) or a candidate (you'd like to join our talent) and once you've registered, click Learn Online. We have dozens of other inspirational and professional insights videos.
Look out for notifications to sign up for our next free Global Town Hall in December 2021!