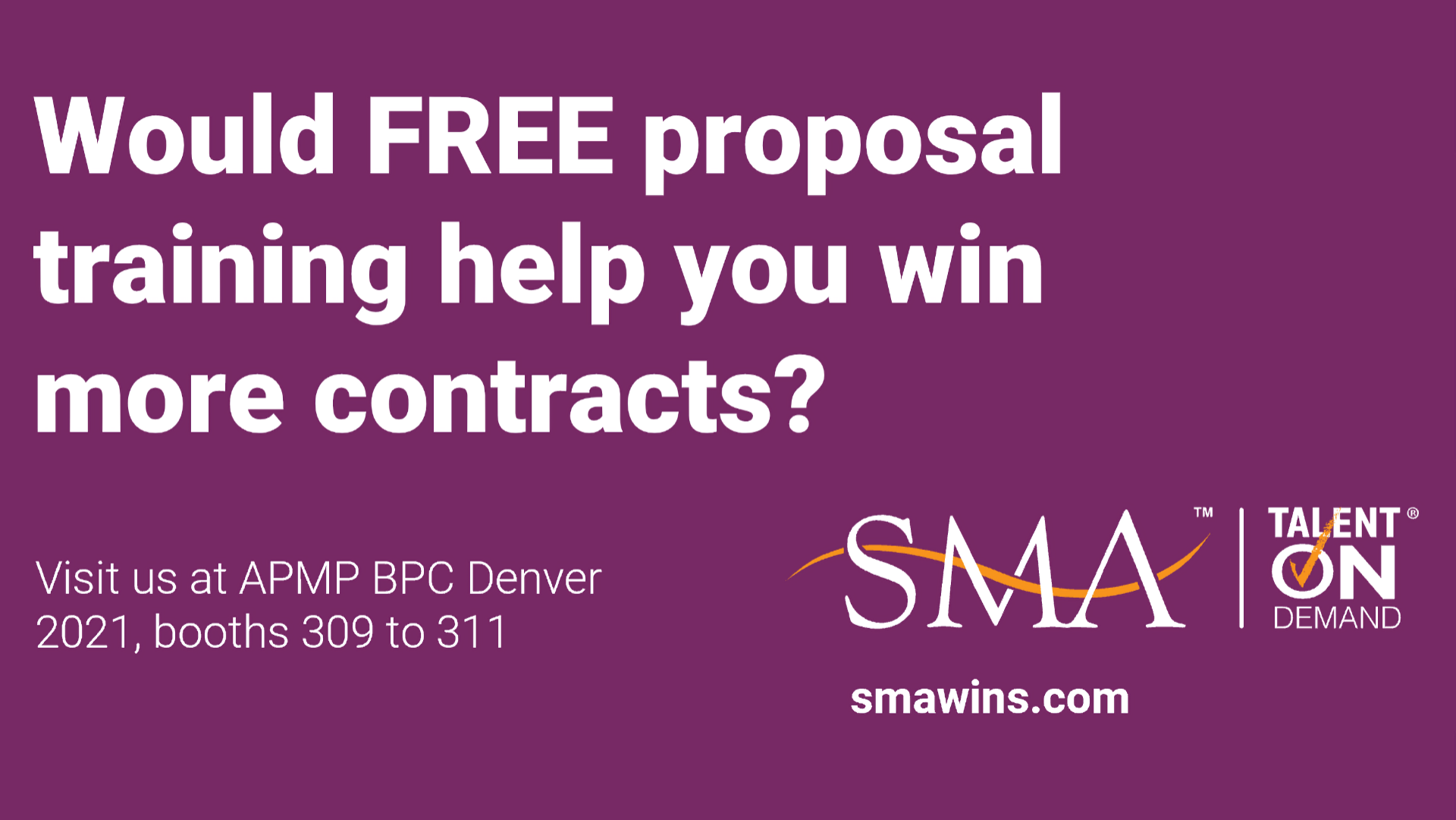 FREE Proposal Training? Let's Talk at APMP BPC Denver!
Would FREE proposal training help you win more contracts? Let's Talk
We are the global leader in capture and proposal support. Our solutions maximize your competitive position. Our Talent on Demand (TOD)® platform gives you access to hundreds of capture and proposal professionals. And yes, our training is now FREE. Visit us at APMP BPC Denver 2021, booths 309 to 311, for more details.
You should also attend these exciting sessions from our team:
Wordman's Microsoft Word Q&A Workshop
Dick Eassom, CF APMP Fellow, our Vice President of Corporate Support, better known as Wordman, hosts his popular 2½-hour workshop on all things Microsoft Word. Most proposals are developed using Microsoft Word, and some RFPs even ask for proposals to be submitted in Microsoft Word. However, most proposal developers often struggle with Word's myriad functions and the best way to achieve the desired result. Dick's workshop will fix that! Takeaways include:
Learn best practices for more complex Word activities such as setting up Word for proposal development
Understand the factors to consider in custom template design, including heading numbering, graphic placement, etc.
Make use of building blocks and content controls to save time
This workshop is intended for anyone who wants to learn invaluable tips and tricks when using Microsoft Word! Bring your Microsoft Word questions and see if you can stump Wordman! Watch Dick describe his workshop:
Landing In and Loving the Bid and Proposal Business
At APMP's popular Ignite session, Darren Durkee, CF APMP, Vice President of Business Development, will present his experience joining the bid and proposal industry! Over the past 38 years, Darren has gone from career Air Force officer, to business executive, and now into the heart of the bid and proposal business. Following a fulfilling two-plus decades of military aviation and Pentagon assignments, he worked his way up a science and engineering firm conducting R&D for countering weapons of mass destruction. Managing a large unit with wide ranging responsibilities to include capture and winning of proposals, he learned to appreciate the value of the bid and proposal skillset. B&P professionals help sustain the lifeblood of the companies you work for and support. Darren recently retired from his business executive job and has jumped head-first in this business working for a company consisting of hundreds of B&P professionals.  B&P professionals are critical in making their organizations more competitive across all industries, from health care to national defense to infrastructure….and the list goes on and on.  They really do make a difference. As we all know, it can also be an adrenaline rush when you are in the throes of an important proposal! (And, aren't they all important?). Over the years, Darren has been on source section committees, involved in developing numerous proposals, and participated in various color teams. He has recently become APMP Foundation-Level certified and is excited to be your new colleague in this important and dynamic profession!
We're looking forward to seeing you at APMP BPC Denver! Did we mention our proposal training is now free?