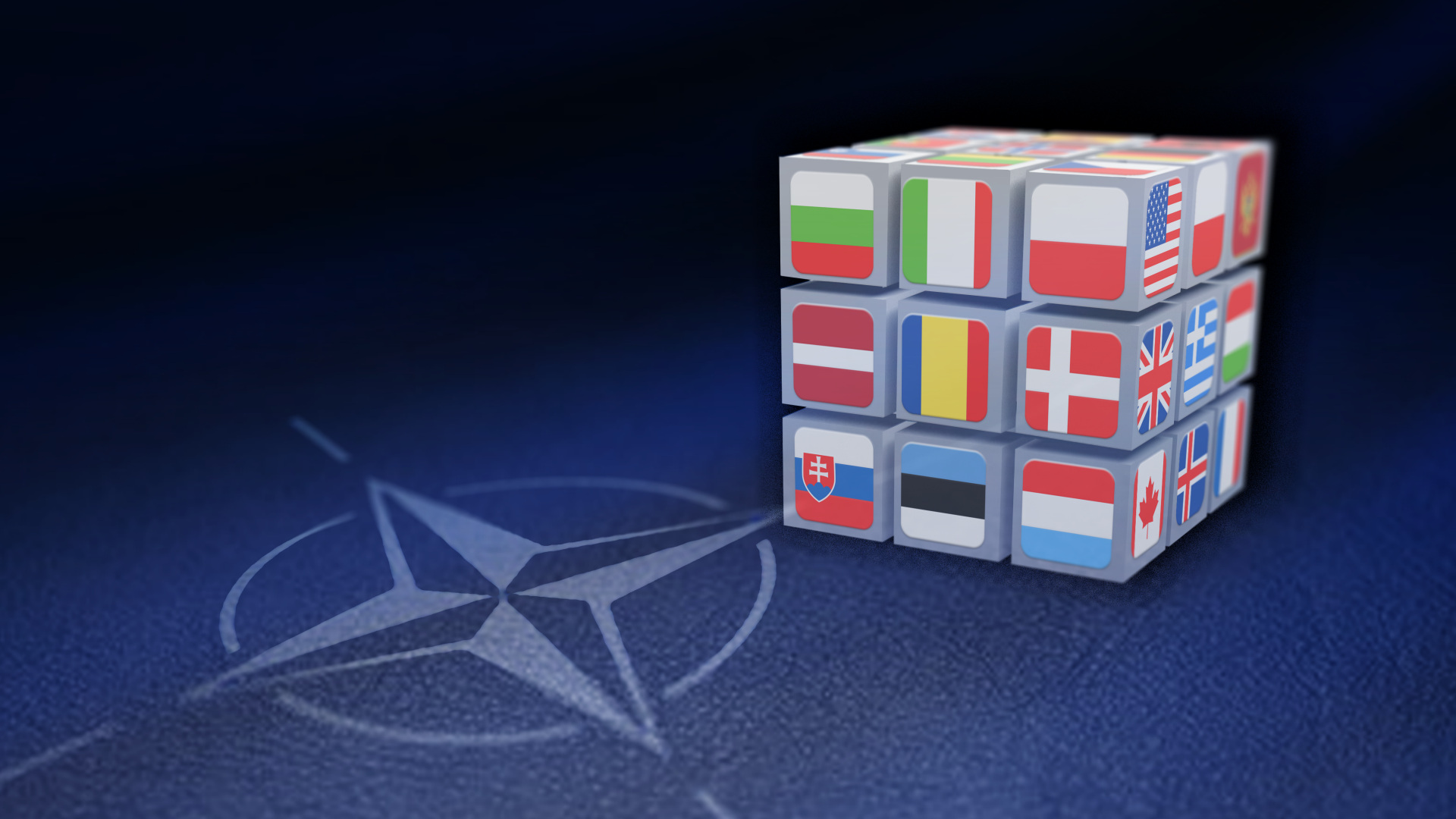 A Rubik's Cube with Flags: Lessons for Multinational Armaments Programs
Multinational armaments programs—like Joint Strike Fighter, NATO's Alliance Ground Surveillance (AGS), or the A400M—are like a Rubik's cube. But instead of colored squares, they have other variables—national industrial rivalries, different strategic priorities and industrial cultures, uneven technology levels, national funding choices—that are even harder to align and make these programs a challenge for industry and governments.
By Peter Flory
NOTE: The views expressed here are those of the author and do not necessarily represent or reflect the views of SMA, Inc.
At the same time, they are important to build defense capability, especially for countries for whom it may not make sense to invest in their own strategic Intelligence, surveillance, and reconnaissance (ISR), airlift, or refueling tankers. And in the NATO context, they help bind allies and partners to a common effort. For industry, the payoffs include sales, visibility, and prestige. These programs also form important industrial partnerships.
As a NATO Assistant Secretary General, I had the opportunity to lead NATO's Defense Investment Division to help deliver AGS, the Strategic Airlift Capability (SAC), NATO Missile Defense, and other programs. And I know that learning lessons from earlier programs and adopting best practices can help deliver capabilities faster and with less difficulty for customers and industry alike.
The resulting capabilities support Allied and partner military and humanitarian operations. Today, the SAC—three Boeing C‑17s owned by ten NATO nations and two NATO Partners—is delivering COVID‑19 supplies and has flown some 9,000 sorties and 29,000 mission flight hours since 2009. The NATO AGS Force will shortly declare Initial Operational Capability (IOC) at its main operating base in Sicily and start flying its Northrop Grumman Global Hawks on ISR missions for NATO.
Not all programs involve large airframes: after Allies found themselves running out of Precision Guided Munitions in the Libya conflict, my former colleagues in Defense Investment found innovative solutions to cost-effectively acquire and stockpile this critical capability. And NATO missile defense is providing deterrence and assurance against growing regional threats to NATO territory and cohesion.
Meanwhile, the Multinational Multi-Role Tanker and Transport Fleet (MRTT), originally launched by the European Defense Agency (EDA) and now managed by the NATO Support and Procurement Agency (NSPA), just took delivery of its first Airbus A330, on the way to addressing a longstanding gap in European air refueling capabilities. NSPA has also launched a nine-nation Maritime Patrol Aircraft (MPA) acquisition program (Accelerated Interim Multinational MPA Solution, or AIM2S) designed to deliver flexible short-term solutions in the face of a newly assertive Russian Navy and an increased focus on the Arctic. NATO has to replace the iconic Airborne Warning And Control System (AWACS) aircraft after it retires in 2035. To that end, NSPA has contracted with industry to study emerging and disruptive technologies and innovative approaches to meet this looming gap.
Challenges
When national and industry leaders gather to celebrate delivery of a successful program, they are typically generous in crediting the wise and far-sighted decisions that brought them together, no matter how perilous the actual implementation has been.
Industrial competition may be the biggest challenge. Airbus nations tried to derail establishment of the SAC program in deliberations at NATO Headquarters, primarily because they saw the program as a threat to that multinational company's own A400M air transport, then in development. (The A400M had yet to make its first flight when the SAC started operational missions to Afghanistan and at the time was not a credible option to meet Allies' urgent requirement for strategic lift.)
Another inherent tension: while NATO civilian and military staff typically focus on delivering capability and interoperability quickly and affordably, the member nations may prioritize other aspects of the program. This is of course their right, but the result is often delay, increased cost, and frustration. For example, France and Spain were major and valued participants in the AGS program, who dropped out when the cooperative radar development (France's priority) and manned aircraft procurement (Airbus A320s, to be built in Seville) were dropped for cost reasons. Canada, Denmark, Turkey and Poland also left the program to meet other national priorities (Denmark and Poland later returned.)
For industry—in the case of AGS, drawn from 15 NATO member nations, led by Northrop Grumman and the leading European integrators, Airbus Defense and Space, Leonardo, and Kongsberg—putting together a technologically and economically sound industry plan, and aligning national work and cost share, was inevitably a challenge.
Delay compounds delay. The SAC program, designed to meet an urgent need for strategic lift for Afghanistan and other military and civil missions, was a perfect example. Conceived in 2006, the program lost members and funding in the wake of the 2008 financial crisis. Thanks to the US and major contributors/investors like the Netherlands and NATO Partner Sweden, the program survived, but was a "close run thing." And even without global economic meltdown, as key individuals and champions move on, programs become bureaucratic and political orphans, and lawmakers ask, why aren't we spending that money on jobs in [YOUR COUNTRY HERE]. Meanwhile, if countries bail out of a program, industrial share needs to be reshuffled between the remaining participants, another challenge for the integrators.
Other decision points, like finding a base for the new system, can also slow things down. After some delay, Hungary, a brand-new NATO member, stepped up to welcome SAC's C‑17s and take on all the paperwork and required certifications. With AGS, it took time to resolve a stiff competition to host NATO's new ISR capability.
Finally, for NATO "owned and operated" capabilities, like AWACS or AGS, "common funding" from the NATO budget for operations and support is another potential obstacle and was the last hurdle to launching AGS. The resulting arrangement where some allies contribute "in kind" (in this case ISR from their own national platforms) can be a valuable tool in the toolbox that will save time in other programs going forward.
Lessons and Best Practices
After reading this, industry may ask, why bother? But remember, these programs can be win-wins for customers and suppliers alike. While not all solutions are within industry's control, customers have every bit as much interest in successful outcomes—not least capability, in many cases jobs, and prestige. So, here are some lessons learned and resulting best practices that can help industry, governments, and organizations like NATO or the European Defense Agency (EDA).
Buying off-the-shelf is one way to speed delivery of equipment that can meet the requirements and is actually available today, not just on a PowerPoint slide. This also takes advantage of active production lines to minimize costs. NATO AGS, which sought to combine existing systems with industrial development opportunities, has taken almost 30 years to get to near IOC. Many factors described above played a role in that delay. SAC's C‑17s—a proven system—were delivered, from letter of intent to flying missions to Afghanistan, in three years. The Airbus MRTT program, with a new but proven aircraft, will be airborne shortly, only nine years after it started as an EDA program. The difference—both SAC and MRTT use existing, off-the-shelf capabilities. Industrial share and advanced technology development are legitimate objects for national defense customers, but OTS is the solution if the goal is to field systems quickly and reduce program risk.
Ford, not Heinz. In multinational armaments programs, simplicity and "any color as long as it's black" beats "57 varieties." The NATO Helicopter for the 90s (NH‑90) was the first entirely fly-by-wire helicopter. It has over 20 variations, built by three main industrial partners in six countries. First announced in 1985, the program had its first flight in 1995, but was first operational in 2007. A complex and innovative aircraft, NH‑90 had a difficult entry into service with a number of customers. The more than 400 aircraft delivered have now flown 250,000 hours in the armed services of over a dozen nations. But a simpler design and fewer variations might have delivered comparable capability faster and certainly at less cost.
Leadership is key. As with any complex enterprise, multinational armaments programs need strong leadership with a common vision—from governments, senior NATO officials, and industry. The US typically plays a major role in programs where it participates, but AGS, SAC, and NATO Missile Defense could never have succeeded without political leadership from other countries like Germany, Sweden—a non-NATO member—Poland, the Czech Republic, and Romania. Germany, the Netherlands, Norway, Brussels, and Luxembourg are driving the tanker program. It took the personal involvement of NATO Secretaries General and Supreme Allied Commanders Europe to get AGS across the finish line.
Measure twice, cut once. Careful upfront work to harmonize expectations and requirements is essential to save time. Political leaders need to resist the temptation to rush announcements and signature ceremonies—not easy to do with the steady beat of NATO, EU, and other summits and meetings. The early spadework on NATO AWACS replacement, Alliance Future Surveillance and Control (AFSC), seems to be a good omen, given the explosion of surveillance and information technologies, and the availability of manned, unmanned, and space capabilities.
Getting it right up front also applies to management structures. Several NATO programs have been delayed by uneven management—on both the industry and NATO agency side—combined with program ground rules and national competition for posts that made it hard for members to replace management when it failed to deliver.
Lessons learned should be…learned. Large organizations are often better at identifying lessons that actually learning from them…or even remembering them. Whether because of stove-piping, turnover, linguistic and cultural differences, or data management problems, I have been struck by how easily organizations forget what they already know.
If you found this article interesting, and would like to know about our capabilities on this and other geopolitical topics, please contact us: