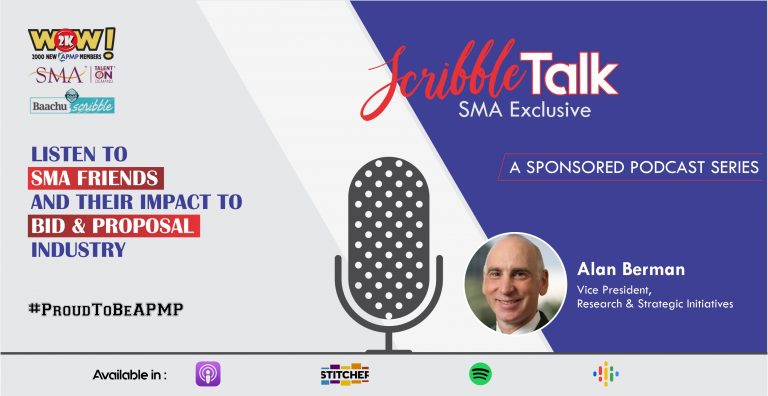 Scribble Talk SMA Exclusive Episode 2, Featuring Alan Berman
"SMA is pleased to sponsor Scribble Talk SMA Exclusive. As one of the top Apple podcasts it delivers valuable knowledge to bid and proposal professionals world-wide. It's a great source for mentoring and career development, and each episode is so much fun!"
Ajay Patel, President and CEO, SMA Inc.
Scribble Talk SMA Exclusive is our sponsored podcast produced by Baachu Scribble and hosted by Baskar Sundaram. In this episode, Baskar interviews Dr. Alan Berman, our Vice President for Research and Strategic Initiatives.
Alan specializes in market analysis, strategy development, and new business creation. He focuses on growing the SMA business through new systems and processes to enable rapid scaling in core and adjacent markets. Alan also leads the SMA Research team, which conducts analysis on government contractors, major programs, and government agencies, to support business development and client engagement teams. Prior to SMA, Alan spent 11 years in strategy consulting at Monitor Group and Deloitte Consulting, focused on growth strategy and innovation. In that role, he led engagements with clients that included senior leaders of Fortune 500 companies, emerging technology-based firms, and the Department of Defense. These engagements tackled thorny challenges with multi-billion dollar implications. The projects spanned the aerospace & defense, healthcare, automotive, and consumer electronics industries.
Prior to consulting, Alan was at Zone Reactor, a technology incubator funded by the Draper Fisher Jurvetson venture capital network, where he served as Entrepreneur in Residence. Projects centered on technology commercialization of government-funded R&D and resulted in commercial application of over a dozen patents.
Prior to Zone Reactor, Alan worked as a hard drive and tape drive development engineer and tribologist at Seagate Technology. Alan received his Bachelors and Doctorate degrees in Chemical Engineering from UCLA and UC Santa Barbara, respectively, and earned an MBA from the Anderson School at UCLA.
Get to know Alan Berman! Listen to the podcast here: