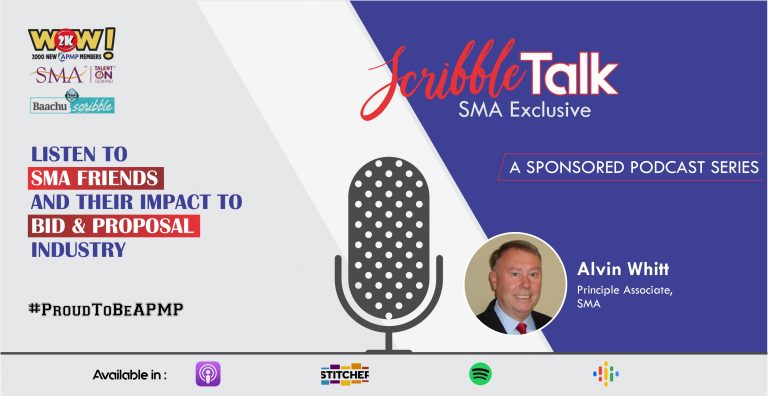 Scribble Talk SMA Exclusive Episode 3, Featuring Al Whitt
"SMA is pleased to sponsor Scribble Talk SMA Exclusive. As one of the top Apple podcasts it delivers valuable knowledge to bid and proposal professionals world-wide. It's a great source for mentoring and career development, and each episode is so much fun!"
Ajay Patel, President and CEO, SMA Inc.
Scribble Talk SMA Exclusive is our sponsored podcast produced by Baachu Scribble and hosted by Baskar Sundaram. In this episode, Baskar interviews Alvin (Al) Whitt, one of our Principal Associates.
Al Whitt is an executive level consultant for proposal development and program management services in both public and private industries.  He leads integrated product teams through all phases of proposal and program execution from inception to completion, guiding teams in the preparation of proposals, business plans, proposal work statements and specifications, operating budget and financial terms and conditions of contracts.  Al is an expert in logistics enterprise, technology insertion, engineering change management, proposal development, program management, program assessments, program affordability analysis, configuration and data management, and modernization of logistics capabilities and processes.
Born in Richlands, Virginia, Al grew up in North Carolina where he graduated from Brunswick County High School in 1974 and earned a Bachelor of Science from Appalachian State University in 1978.  He subsequently earned a Master of Science in Procurement and Acquisition Management from Webster University in 1993.
On graduation from the university, Al was employed in the private sector for two years and then enlisted in the U. S. Air Force in 1980.  In 1985, he was selected to attend the Air Force Officers' Training School and was commissioned in January 1986.  He held assignments at the product center, wing-base, and air logistics center levels; systems center level, major command level, and various joint and interagency levels.  Al retired from the Air Force in March 2003 in the rank of Major after 22 years of military service.
Prior to coming to SMA, he served as the Chief, MILSATCOM Logistics Integration, Directorate of Logistics, MILSATCOM System Program Office, Space and Missile Center. Before joining the MILSATCOM System Program Office, Al served as the Chief Joint Logistics and Deputy Chief for Counter Drug Operations in Lima, Peru. He was the principal advisor to the US Ambassador on all security assistance matters and counter drug operations support by Department of Defense personnel.
Get to know Al Whitt! Listen to the podcast here:
If you're building a team and you have positions you can't fill, you need to use SMA Talent on Demand (TOD®)! With TOD®, you can find experienced talent, such as Al, matched to your exact needs.