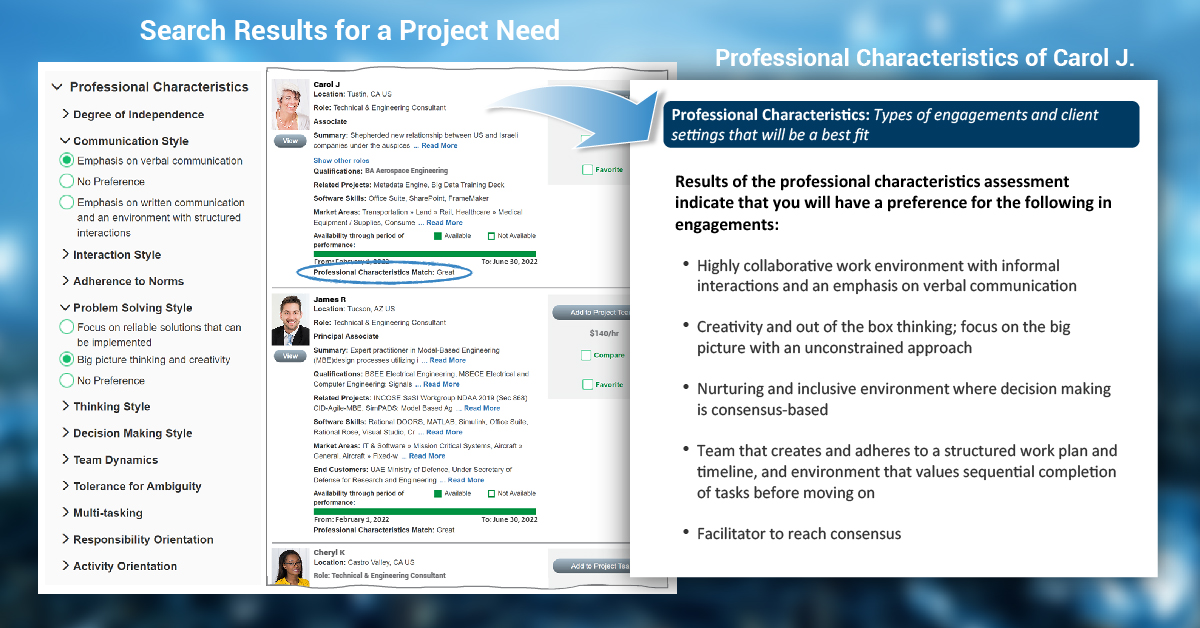 What Is the Secret to a Successful Project?
At SMA, we recognize that fit with your company and team culture is just as important as skills, expertise, and experience. Johnny C. Taylor, Jr., CEO of the Society for Human Resource Management (SHRM) in the Winter 2021 edition of HR Magazine stated, "Employers need to recruit for skill but hire for fit." So, how can we ensure you that an SMA associate is the perfect fit for your project? The answer is simple and our little secret to a successful project is our Professional Characteristics matching in SMA Talent on Demand (TOD®).
40 years of successful projects, and well over 16,000 engagements on 3,000 programs for over 500 companies in the past ten years alone, are the result of creating high-performing teams with our clients. TOD® captures our 40 years of experiential knowledge into Professional Characteristics matching. We created two quick surveys to help clients define their company or project culture and to help our Associates identify types of engagements and client settings that will be the best fit. Both surveys are based on SMA's proprietary experience and widely recognized methods used for decades.
Clients take a 12-question survey to define their company culture or project environment, while SMA Associates take a 32-question survey to get a sense of strengths and preferences across a set of dimensions that are relevant to their ability to succeed in specific roles and project environments. Some of the topics covered in both surveys include the degree of independence, problem solving and decision-making styles, communication preferences and team dynamics. Our proprietary algorithm then helps both clients and associates better understand whether a particular project may be a great opportunity to create a win-win!
Whether you are searching for talent for your projects, or looking for new project opportunities, "fit" becomes an integral part of the results and leads to the perfect match for our clients and our workforce. TOD® is the only talent solution that has this capability to facilitate precision talent matching for both the client and the associate. If you have a project need or seeking an employment opportunity, click the button to TOD® below to make sure that you find the perfect fit and are set up for success.