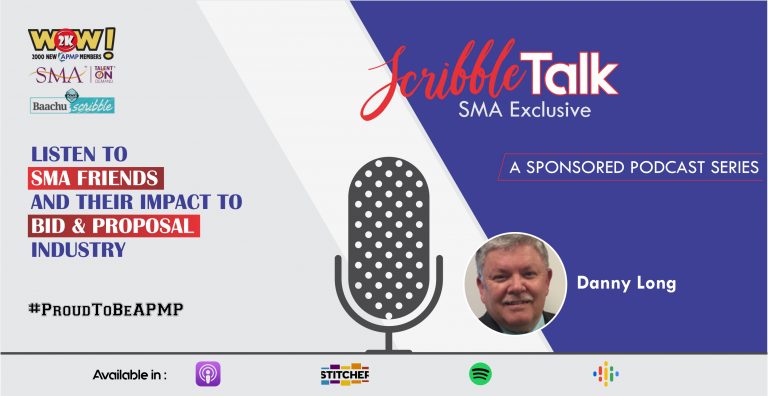 Scribble Talk SMA Exclusive Episode 5, Featuring Danny Long
"SMA is pleased to sponsor Scribble Talk SMA Exclusive. As one of the top Apple podcasts it delivers valuable knowledge to bid and proposal professionals worldwide. It's a great source for mentoring and career development, and each episode is so much fun!"
Ajay Patel, President and CEO, SMA Inc.
Scribble Talk SMA Exclusive is our sponsored podcast produced by Baachu Scribble and hosted by Baskar Sundaram. In this episode, Baskar interviews Danny Long, a Principal Associate in our Capture Support and Proposal Development Practice.
Danny's projects include national and international multi-billion dollar U.S. Air Force, U.S. Navy, U.S. Army, other DOD, NASA, Department of Energy, Homeland Security, Health and Human Services, and Postal Service contracts. He has demonstrated expertise in life-cycle and infrastructure reinvestment planning, baseline and cost control, productivity improvement, small business/small disadvantaged business subcontracting, and labor relations management. Danny has consistently brought projects in ahead of schedule and under budget. He has a direct understanding of capture management requirements and evaluation criteria from both a Government and commercial customer perspective, and a successful record in the development and delivery of innovative proposals, projects, products and services leveraging core competencies to maximize business diversification and growth. Danny has experience with multiple domains including defense, intelligence, telecommunications, logistics, and information technology market & program business development, capture and proposal management. He has extensive briefing and presentation experience.
Get to know Danny Long! Listen to the podcast here:
You can also read Danny's contributions to our Professional Insights articles:
If you're building a team and you have positions you can't fill, you need to use SMA Talent on Demand (TOD®)! With TOD®, you can find experienced talent, such as Danny, matched to your exact needs.